Top 20 Engagement Session Locations In Orlando
Top 20 Locations For Engagement Sessions In Orlando
I am so grateful to be a wedding photographer in Orlando. There is so much diversity to shoot! Not only in regards to wedding venues, but also for engagement session locations, there is something in Central Florida for everyone! There is no way you won't find the perfect location to take your engagement photos at.
It's so important to personalize your engagement images to represent you and your love story. When choosing a location for your engagement photo shoot, think about what is the style you're going for. Do you want it to match your wedding theme or colors? Maybe shoot your portrait session where you two first met? Take some time to talk it over with your fiancé because the location is what sets the vibe of your engagement photo session.
Below is a list of Orlando's top 20 picture-perfect engagement photo shoot locations to give you some ideas. And if your looking for something you don't see, message me! There are literally hundreds of places we can pick from in Central Florida.
1. Downtown Orlando
Downtown Orlando is perfect for those couples who love the city vibe! There are a ton of parking garages with stunning cityscape views, fun wall murals around the Milk and Mills District area, and modern architecture you won't find anywhere else.
2. Disney's Contemporary Resort
With a modern twist, Disney's Contemporary Resort is one of the most beautiful locations to take engagement photos at. It has a wide variety of indoor and outdoor options and it is the closest Disney resort to the Magic Kingdom for those couples wanting gorgeous photos of Cinderella's Castle.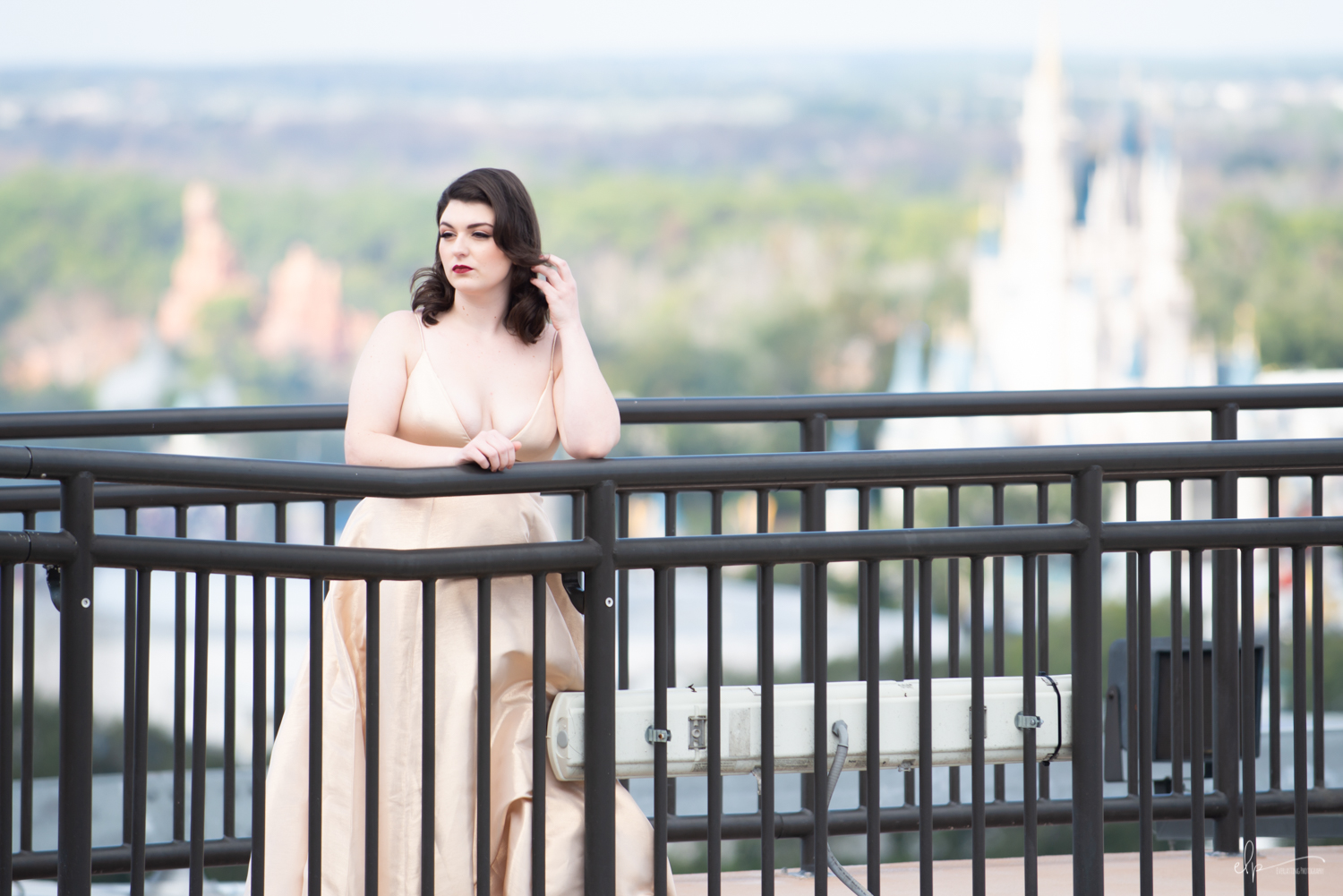 3. Cypress Grove Park
From the moment you drive into Cypress Grove Park, you're immersed into it's own little world. You're greeted with beautiful oak trees that create a canopy on all the roads leading you to the gorgeous Cypress Grove Estate, and it's a lake front so you will get killer sunset photos! If you and your fiancé love greenery and natural beauty, this is where you want to have your engagement session at!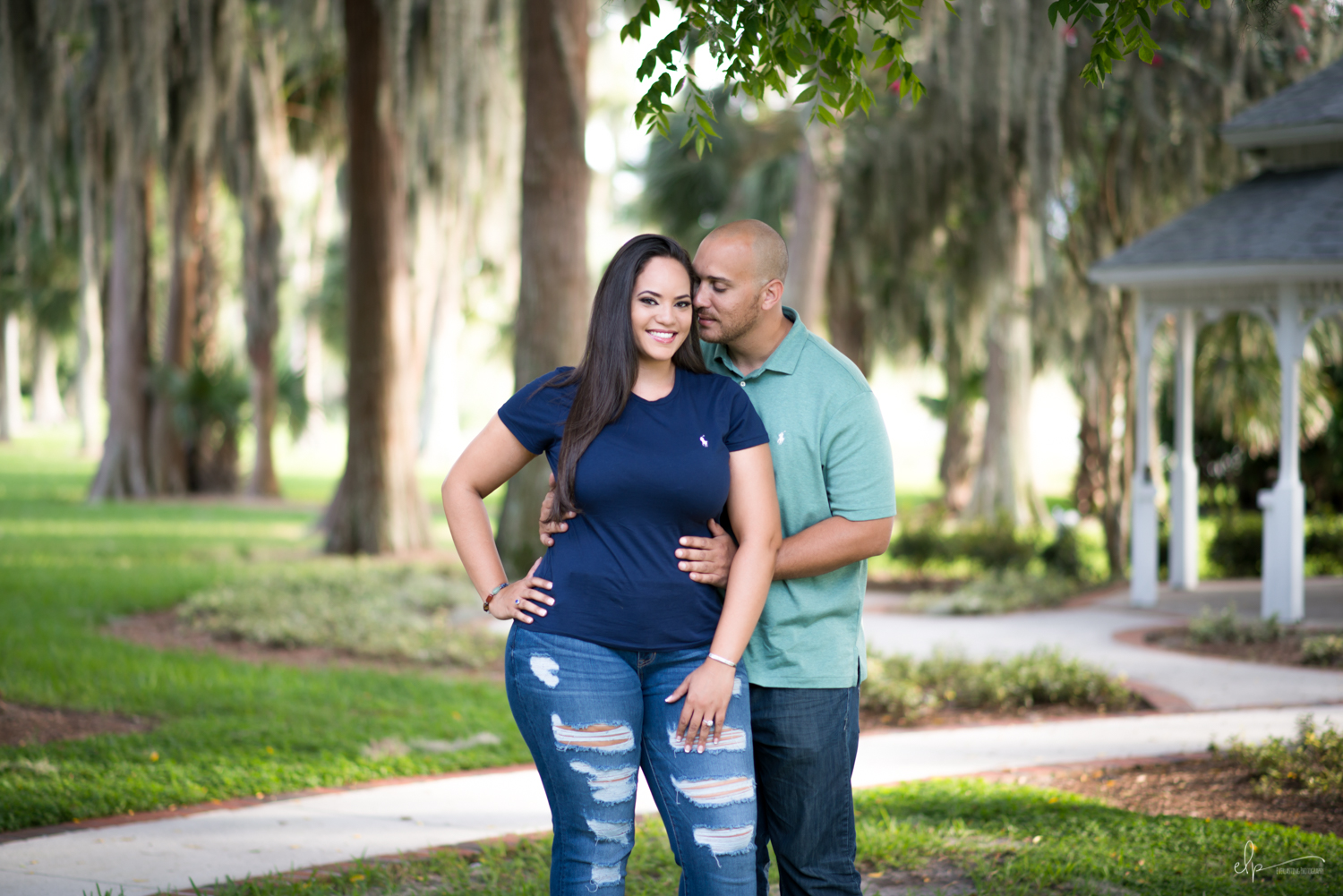 4. Disney's Grand Floridian Resort
Disney's Grand Floridian is a classic! It has a victorian elegance vibe inside and gorgeous white buildings with blooming flowers everywhere! Between the Wedding Pavilion and perfect view to Cinderella's Castle, it is a princess's dream photo shoot location.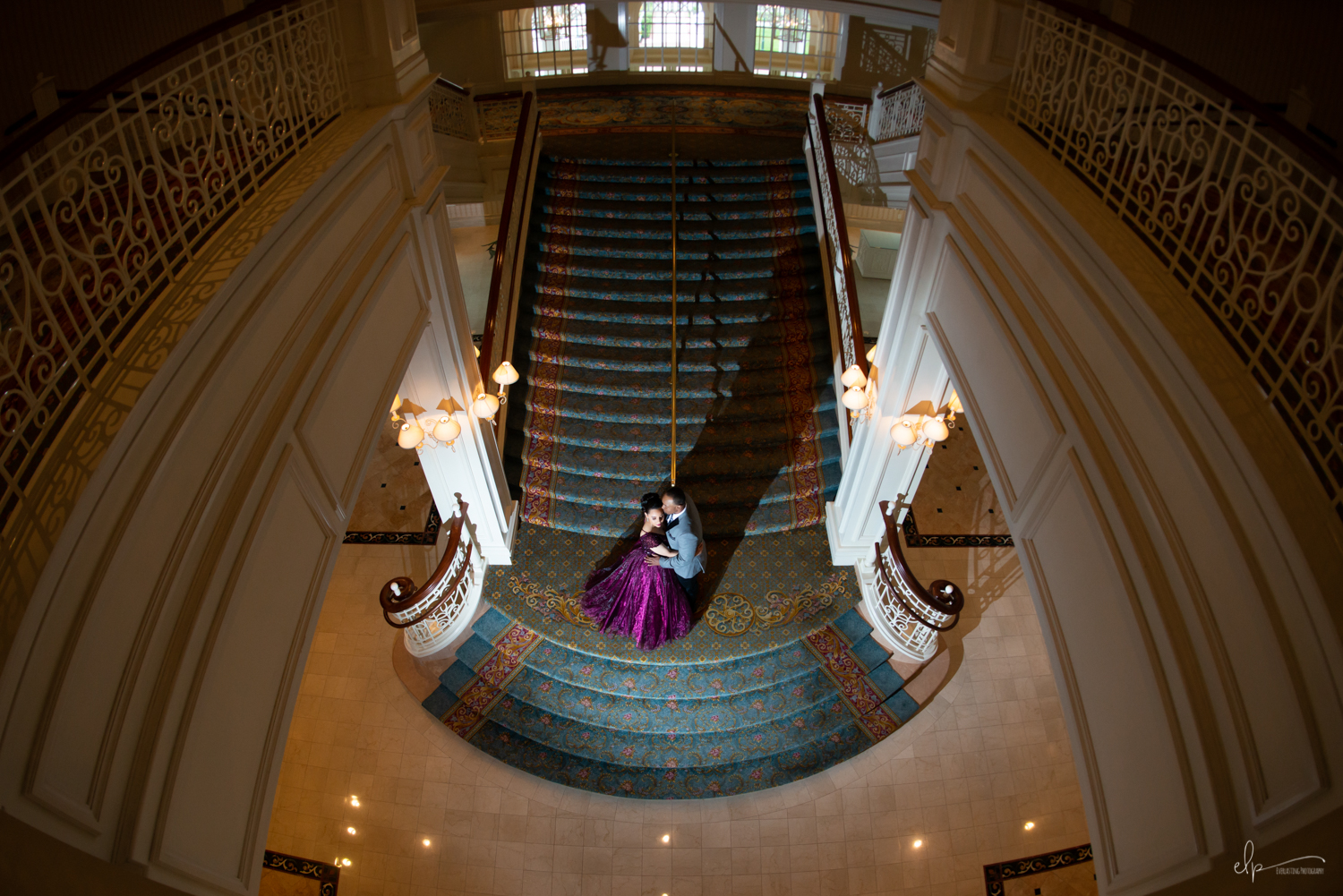 5. Lake Eola Park
Located in the heart of Downtown Orlando, Lake Eola Park is perfect for those couples that want the best of both worlds, the gorgeous city background with beautiful greenery. Also, for those who love theater or entertainment, the Walt Disney Amphitheater makes amazing photos! There are so many art pieces throughout the park, they make this location one of a kind.
6. Disney's Animal Kingdom Lodge
Disney's Animal Kingdom Lodge is for those couples that want to walk outside and have a giraffe photo bomb their engagement session! It is the perfect safari and rustic combination. The huge boulders and fire pit outside create romantic and playful images, then walk indoors to utilize the stunning bridge, staircase, and waterfall. ( Bonus : During the holidays, there is a huge sparkling Christmas tree in the lobby! )
7. Kraft Azalea Garden
Kraft Azalea Garden is one of Winter Park's hidden gems. Sunset photos here are breathtaking. It has gorgeous cypress trees, a lake front view with a dock, and a stunning greek pillar monument in the center of the park.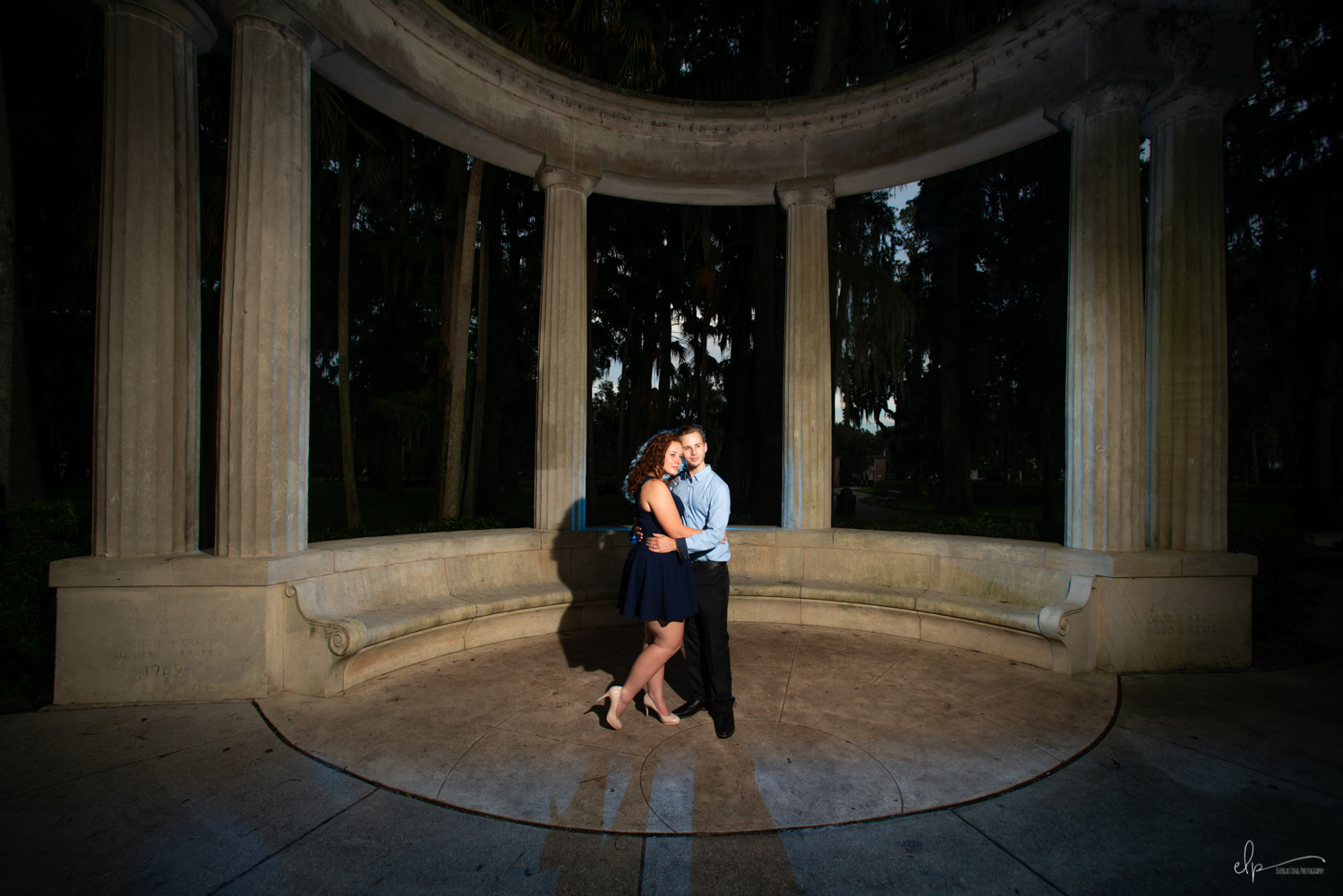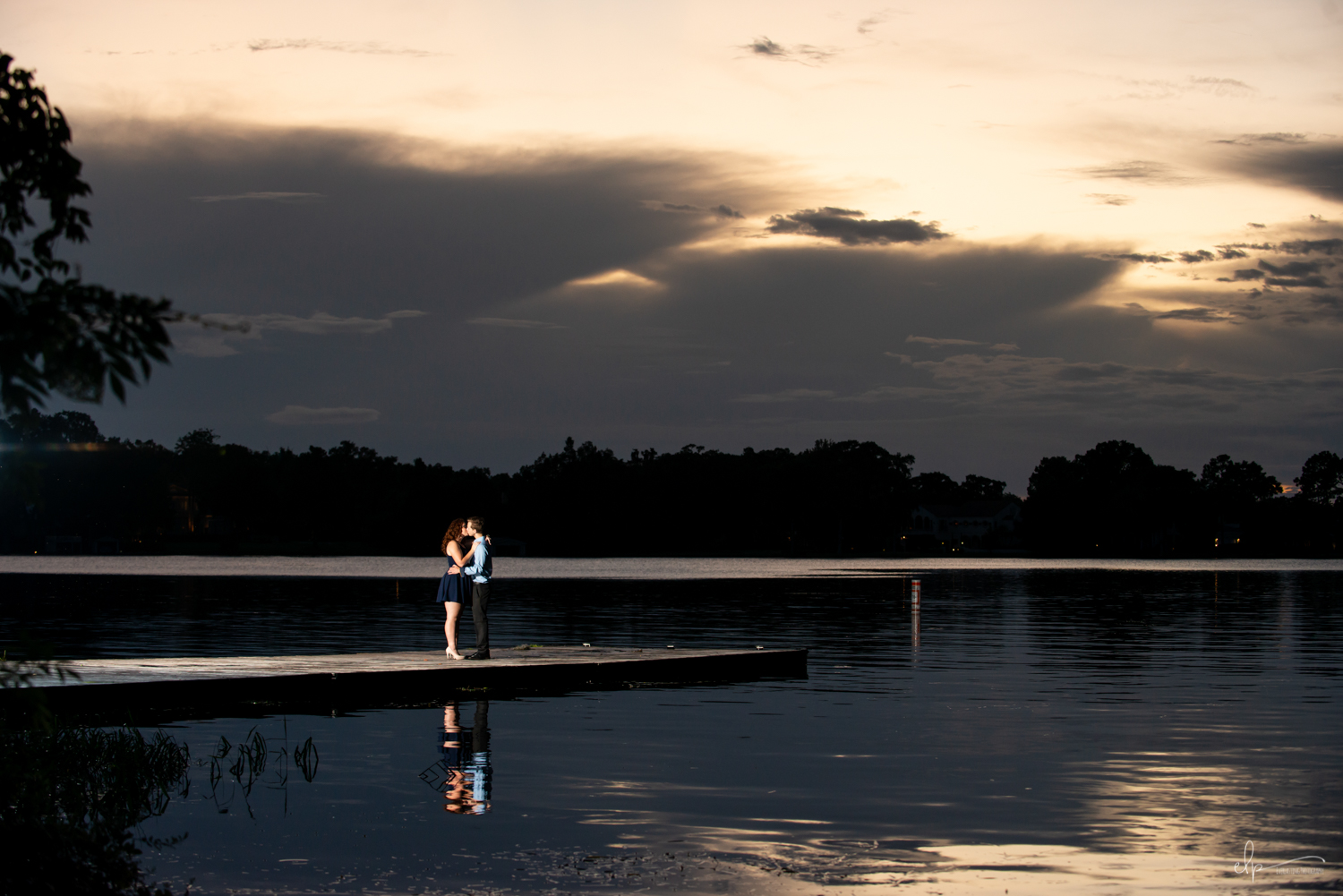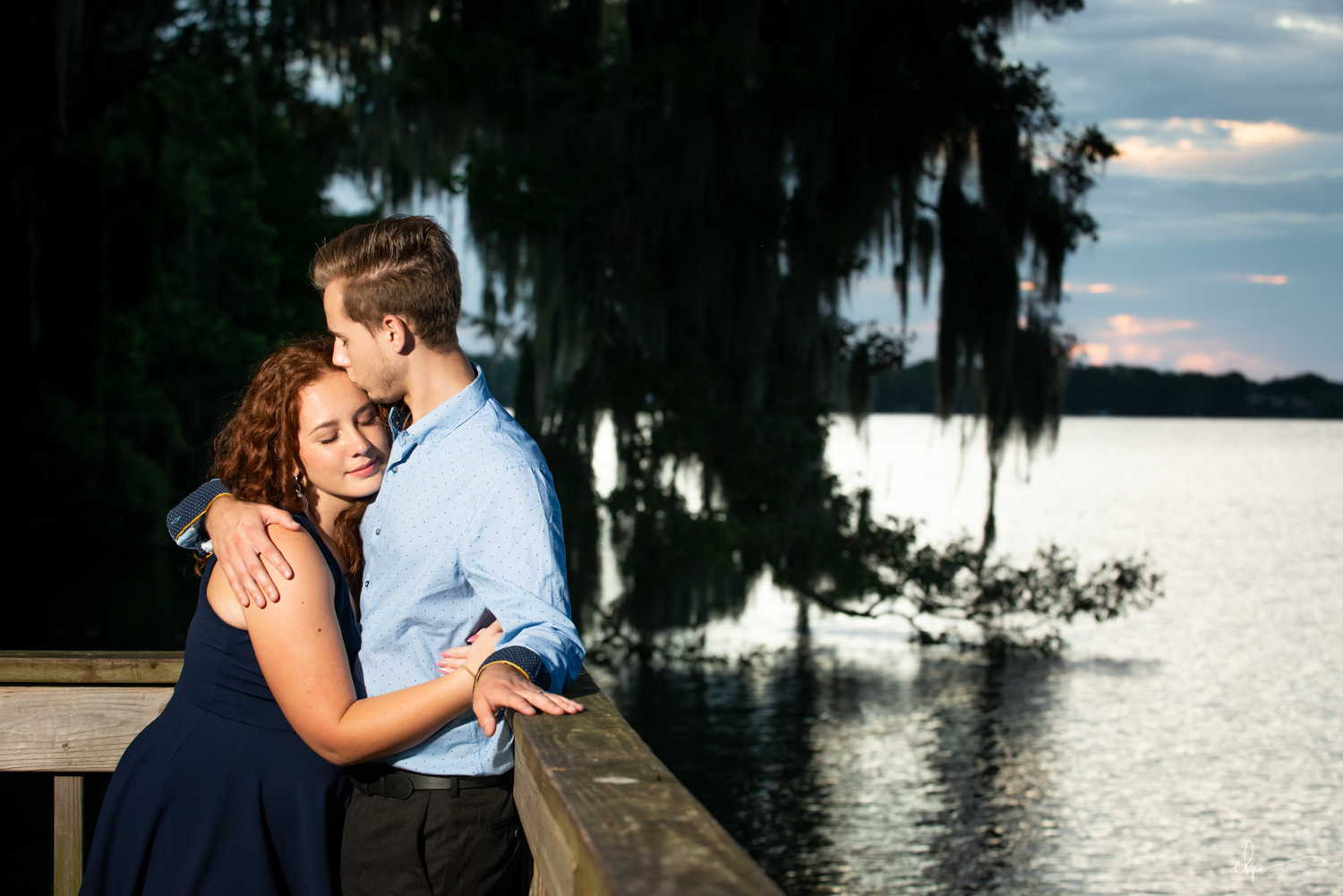 8. Downtown Winter Park - Central Park
Downtown Winter Park has so many beautiful photo spots and we can hit them all because they're so close together. Central Park is the perfect starting point because it's located off of Park Avenue. It has a peacock fountain, beautiful rose garden, and the train station is a short walk away.
9. Disney's Port Orleans Riverside Resort
Disney's Port Orleans Riverside Resort is inspired by New Orleans and has a southern elegance vibe to it. The waterwheel is beautiful and the resort has multiple staircases, fountains, and bridges to explore and use for your engagement photos!
10. Lake Runnymede Conservative Area
Lake Runnymede Conservative is a natural preserve in St. Cloud. It's has the most majestic forest feel! With gorgeous tall grass and unique curving tress, this location is simply perfection.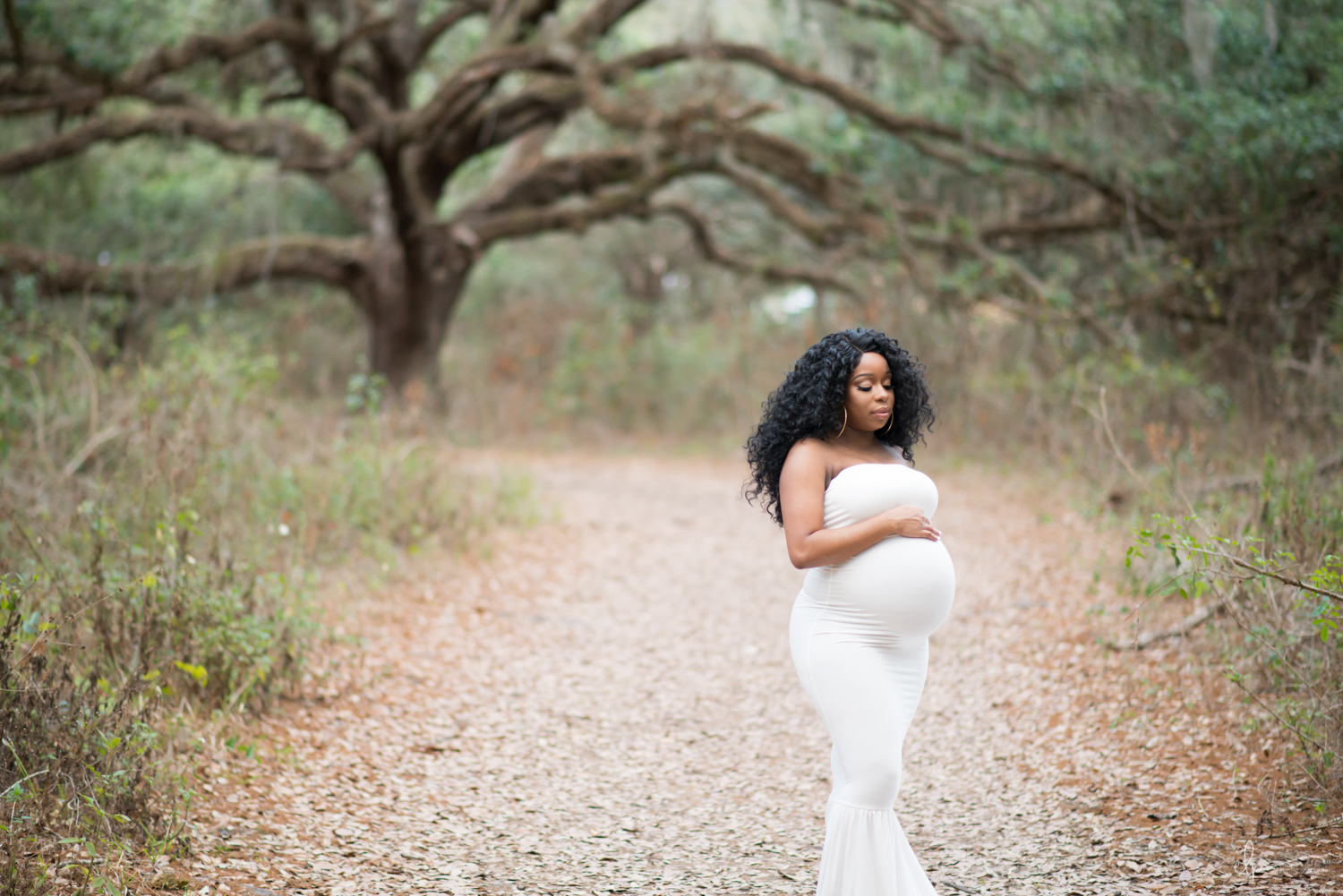 11. Rollins College
Located in Winter Park, Rollins College is a liberal arts campus with very distinct Spanish architecture. It has gorgeous archways, grass hedges, a rose garden, and endless columns throughout the property.
12. Disney's Beach Club Resort
The feel of it, is in the name. Disney's Beach Club Resort has the perfect beach vibe without having to drive 1-2 hours to get to the beach. It has a gorgeous lighthouse, white crisp sand with a lake front view, and a secluded gazebo surrounded with flower beds. Sunrises and sunsets are so breathtaking here!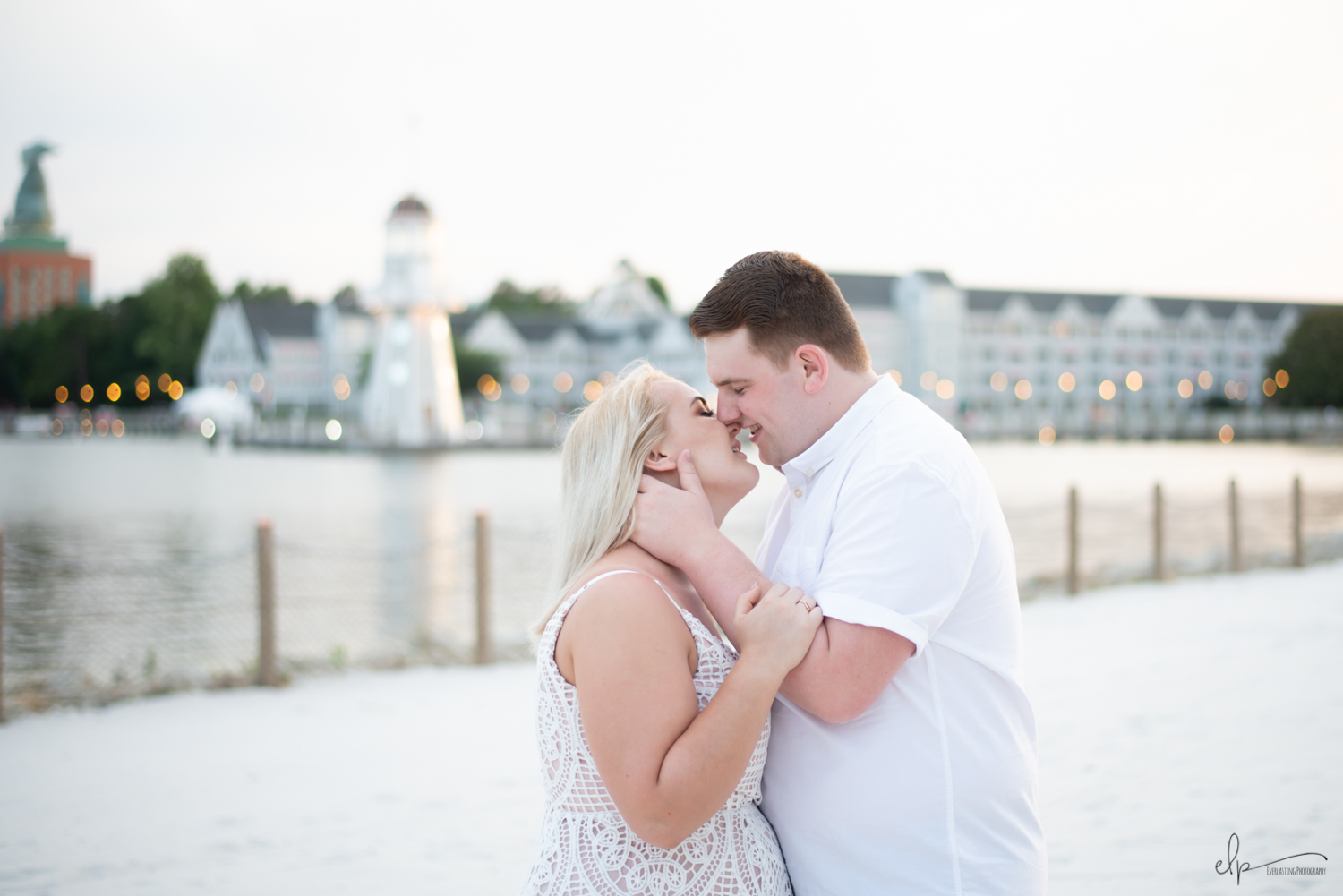 13. Maitland Art Center
The Maitland Art Center is such a cool artsy location. it has stunning architecture featuring a mayan chapel, courtyard, and dreamy garden pond. Everything about this location just works so beautifully for unique engagement photos.
14. Dickson Azalea Park
Located in downtown Orlando, Dickson Azalea Park is simply perfection. It's an urban park that has all of NYC's Central Park vibes. Between the rocks, tunnel, and bridges, you can't help but get lost in this fun edgy jungle.
15. Universal Studios
Orlando's Universal Studios is a dream come true for Harry Potter fans. It's where fantasy and magic come to life. Diagon Alley has so many photo spots and if your up to it, getting shots at the Wizarding World Of Harry Potter Castle is a perfect way to end your engagement portrait session. ( It's only a short train ride over to Hogsmeade, so why not! )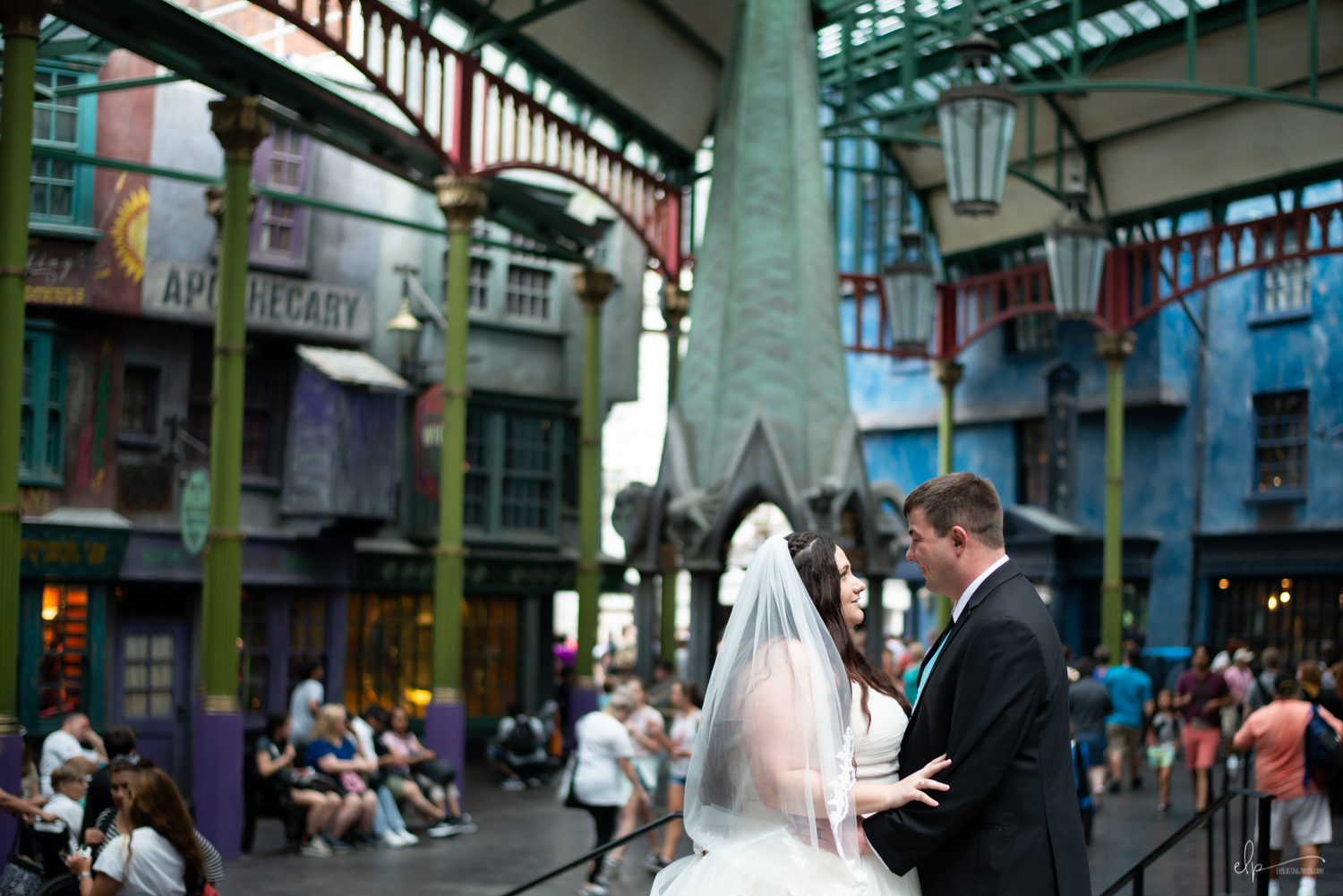 16. Kelly Park
Kelly park is beyond breathtaking! It's a natural spring located in Apopka that offers greenery and crystal clear water. Getting those fun and intimate shots in the water and using the rock landing is so worth getting up early to beat the crowd.
17. Disney's Boardwalk Inn Resort
As you can already tell, Disney has every style you can possibly imagine. The Boardwalk Inn has such a unique vibe with vintage charm. You can dress up or dress down. It's the perfect location for playful photos. There's a photo booth, a dance hall, an ice cream parlor, and carnival style games.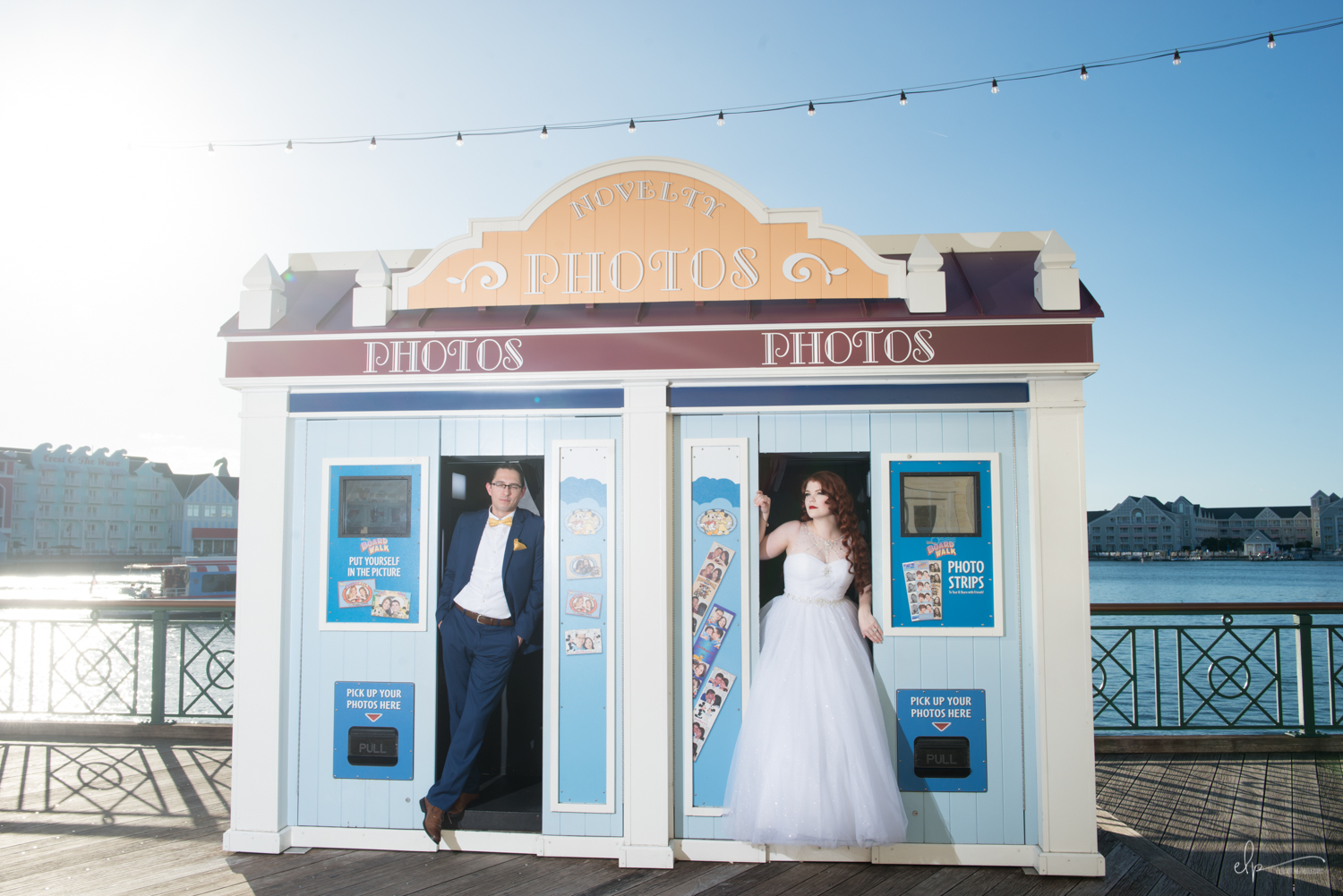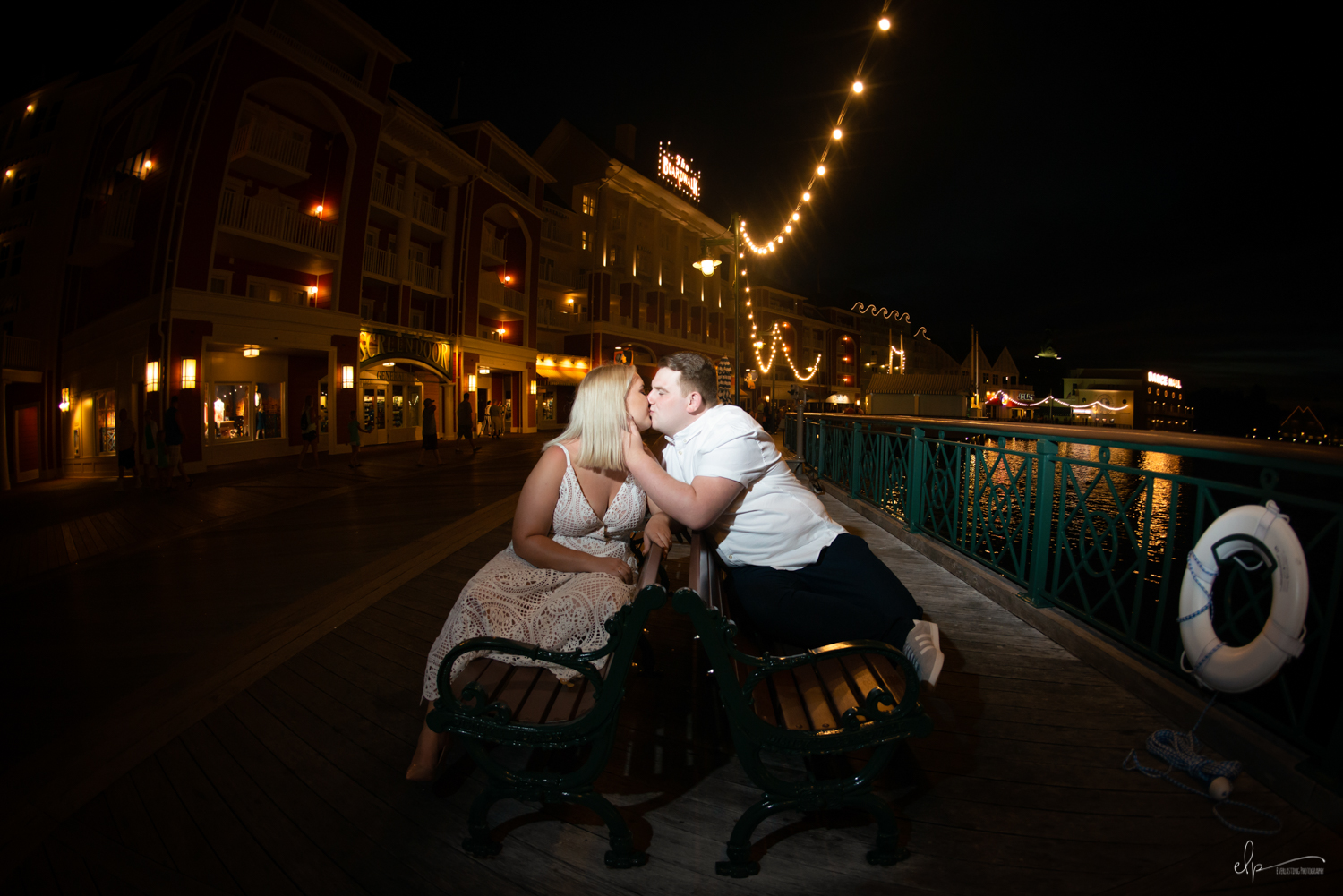 18. Winter Garden
This is another vintage gem! Winter Garden is brick wall heaven! It features a stunning fountain, old school theater, and a clock tower. And for those couples who are daring enough, there is a splash pad that makes EPIC photos!!!
19. Lake Nona
Lake Nona is known for it's stylish modern vibe. It has a cool stained glass house, industrial garden, and many contemporary buildings. It's a fun excuse to dress up and show off your fierceness!
20. Bok Tower
If you don't mind a bit of a drive outside of the Orlando area, Bok Tower is the place to go. There is so much variety! The tall grass, the gorgeous boulders, floral bushes, tree lines, and dreamy estate, it's safe to say, we will be shooting your engagement photos for at least two hours. The property is HUGE!